PAYLOAD STUDIOS
Aug 13, 2014
1,446
1,492
550
One more update from us before the year ends with some important bug fixes that needed fixing from version 1.3.6.
Bug Fixes
Fixed crash bug when opening certain reward crates.
Chinese names now display correctly in the player lists of multiplayer modes.
Fixed Block Injector issue, which was causing modding of new blocks to no longer work.
Release Notes - Version 1.3.6
There are new areas to test out in the R&D Labs (the new name for the R&D Test Chamber):
14 Unique Campaign Biomes Including Grassland, Rocky Ridge, Mountains, Salt Flats
Testing Apparatus area with Speed Trap, Weighing Scales, Damage Calculator
There are also 2 new skin packs to purchase. Each pack includes a brand new skin and a set of bespoke blocks for 2 corporations:
To The Stars: Space Race & Roswell (GSO & Better Future)
Weapons of War: Iron Hunter & Warbird (Hawkeye & Venture)
Check them out!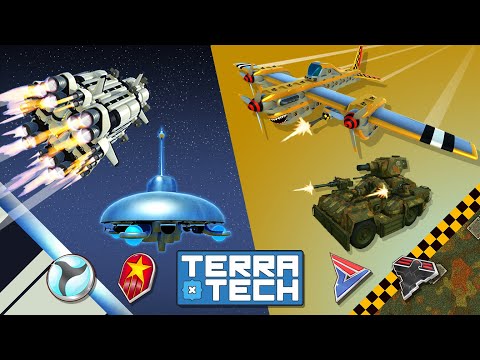 YouTube™ Video: New Custom Skins || TerraTech Update
Views: 3,168
4 Brand New Custom Skins will be available to buy on Steam, Xbox One, PS4, and Switch. Subscribe for more Developer Content ►
https://youtube.com/terratechgame
DEVELOPER LIVE STREAMS EVERY WEDNESDAY...
Updates to R&D Labs
Important note:
All existing R&D Test Chamber game saves are very likely to load into the new R&D Labs with peculiar consequences; mainly Techs falling from great height or just hanging in the air if they're anchored. So any Techs that you want to keep for the new R&D Labs, please snapshot in the current version 1.3.5 before updating to this version.
Updates are currently in progress so do let us know what you think as we refine what we have and add more features to R&D Labs.
Some of the new features are:

Biome Areas - to test how well your Tech drives on the different terrains.






Speed Trap - to test how fast your Tech is travelling as it crosses the laser line.





Weighing Scales - to measure the mass of a Tech or multiple Techs or individual blocks.





Damage Calculator - see how much damage each weapon causes

Design Tweaks:
The GSO Anchored SCU Storage Device has been moved from GSO Grade 3 to GSO Grade 2.

It will now appear as a rare mission reward for completing missions from GSO Grade 2 onwards.
Art Tweaks:
Graphics options Draw Distance slider has now been extended to almost 3 times the previous distance.





There are also separate graphics options sliders for Detail Distance and Shadow Distance.
The radar has become semi-transparent.
Localisation:
Translations for new text have been added for Chinese, French, German, Italian, Japanese, Russian and Spanish.